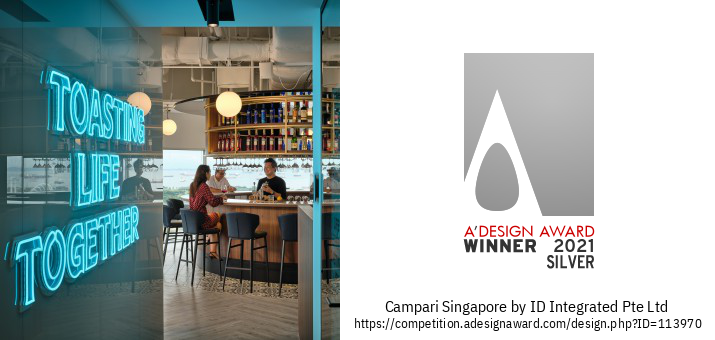 ID Integrated has recently secured the silver design award from A design award & competition in the 2020 - 2021 Interior Space and Exhibition Design Award Category. In a world where there are millions of products and designs launch each year, the award was born out of the desire to underline the best designs and well designed products.
Campari Singapore first started its operations in Singapore at the end of 2014 and has been growing steadily since then. They have gone through a few rounds of renovations in the past and recently required a bigger office due to their regional expansion plans. From a team of 8, they have now grown to 28 and required an office space that could accommodate up to 40 people in the coming years. Inspired by the culture of the staff and management, we work to create unique moments that celebrate life through their brands and every cocktail served, as one travels within and experiences the interior.
We are honored to be chosen as one of the winners of the 2020 A design award and would like to thank our clients for the support. We will continue to bring life to empty spaces, achieve quality construction craftsmanship, and deliver our projects with a heart of service.