Award-winning interior design and build firm , specializing in inventing creative workspace .
WHO WE ARE
ID Integrated is a Singapore based commercial office interior design and build company , specializing in inventing creative workspace . Established with the vision of bringing life out of empty spaces, ID Integrated (IDI) is driven by love and passion for design, architecture, and attention to detail. We provide solutions to every blank space in the commercial and the corporate sector.
We have built exceptional and modern state-of-the-art commercial spaces in Singapore and is aspire to continuously create inspirational office space designs while retaining the resounding trademark of precise craftsmanship through our expertise to create and collaborate.
OUR TEAM
We are a team of experienced interior designers and project managers with a strong background in interior fit-out projects and are passionate and dedicated to innovation and problem-solving.
With a thorough understanding of the interior construction industry, We work closely with clients and contractors and address our clients' needs while not limiting the design possibilities to make objectives central to the process. We strive for design excellence, creative solutions, and lasting relationships. Hence, our clients are involved in every step of the space transformation as we value their input from conceptual design to execution.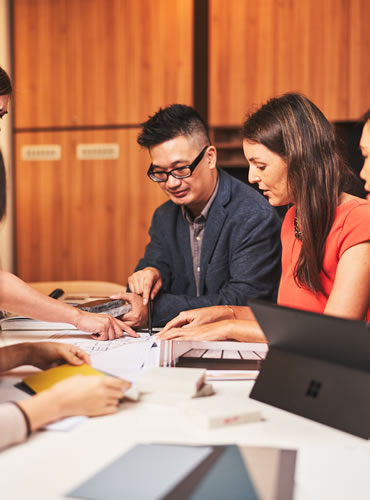 OUR MISSION
ID Integrated was founded with the mission to deliver value-for-quality interior design and build service. As a reliable long-term partner to SME and MNC clients, we are a proactive design-led multidisciplinary team dedicated to client care at the heart of our service.
Service being the heart of our company, we strive to provide quality work with distinction. We ensure our clients get a great customer experience and satisfaction throughout the project.
Click to browse our past projects !